Pet Food Overload
In February, Trone attended Global Pet Expo, an annual trade show organized and presented by the American Pet Products Association (APPA) and the Pet Industry Distributors Association (PIDA). Global Pet Expo is considered the world's largest pet retail-focused industry event with more than 6,000 attendees, many of whom represent global retail buyers.
One of the most popular pet retail categories at the show is always pet food or "main meal" as retail buyers frequently refer to it. This year, hundreds of new pet food brands and nutritional options vied for the attention of retailers. There's no doubt that some of these brands will go on to become popular, but many more will be gone before next year's show.
So, what will be the differentiator between pet food brands that find retail success and those that fail to do so? Thriving in this competitive market takes both a solid product strategy and a brand strategy that offers pet owners a way to connect to their own beliefs about food and nutrition.
In the first of a two-part blog series on pet food nutrition, Trone explores what influences pet food decision-making and highlights opportunities for manufacturers amid all the pet food options available.
Healthy Variety: Why Pet Owners Are Changing Pet Diets
One of the more positive outcomes of the 2020 COVID-19 pandemic is the surge in pet adoption and fostering as people across the country look to pets to help them cope with shelter in place orders. According to PetfoodIndustry.com, more pets means more demand for pet food, which may make the industry particularly resilient despite the quarantine's economic impact.
For these new pet owners who are looking to help their new family members feel loved, the abundance of options can feel overwhelming. From grocery store shelves to pet specialty retailers and online stores, pet owners can now select from grain-free pet food, organic ingredient meals and even freeze-dried options at nearly any retailer.
Even before COVID-19 quarantine efforts, pet owners were starting to switch up their pets' main meal. A 2020 pet food nutritional study conducted by Trone Research + Consulting for Diggo, a veterinary research service, found that more than half of surveyed pet owners had changed their pets' food in the past 12 months—and nearly a third had changed foods in the past six months.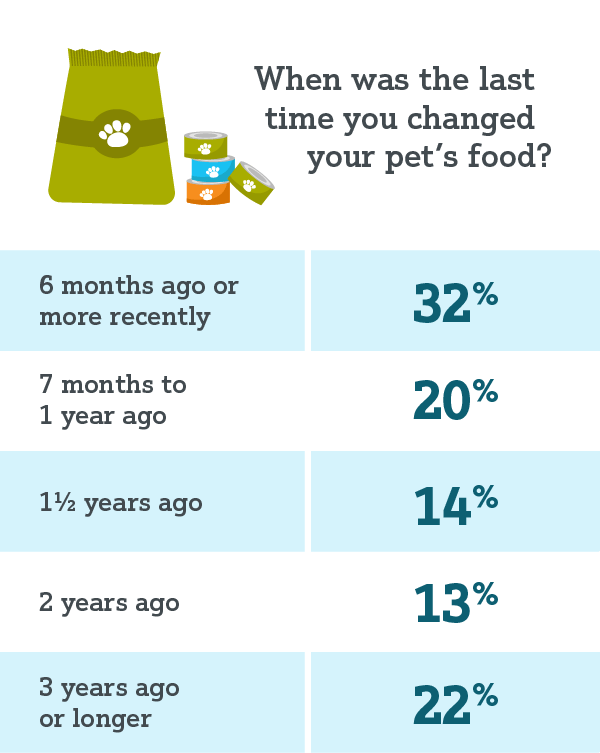 So why are more than half of pet owners changing their pets' food so frequently? The top two reasons cited are a desire to provide more variety and seeking more nutritious options. Secondary reasons for switching a pet's main meal are changing age requirements, general pickiness toward their previous brand and learning the previous brand was not as healthy as they originally thought.
With the majority of pet owners switching their pets' food, it should be clear that pet owners are not exceptionally brand loyal. With so many new options available, they don't have to be. Outside of logical changes such as a pet's age and general flavor palatability, pet owners think about their pet food emotionally—they want more for their pet and need to be reinforced that the one they purchase will lead to healthier outcomes.
The reality for pet owners is good nutritional options matter, but finding the right one is a complicated process.
Seeking Recommendations: What Influences Pet Food Decisions?
Pet owners have far more information channels available today to help them find the right pet food options than even five years ago. The primary veterinarian is not the sole influencer for pet food. Gone are the days when a pet food brand can live completely off of a veterinary recommendation alone.
According to another source of pet owner insight, the APPA's 2019–2020 Pet Ownership Study, approximately half of pet owners become aware of new pet products while browsing in a store, viewing a television ad or while browsing the internet. Only a quarter of pet owners stated discovering new pet products through their primary veterinarian.
Product labels and packaging remain important in influencing pet owners to consider a new pet food brand and reinforce loyalty. Just less than half of survey respondents said it is product packaging and labels that are influencing their purchasing decisions. In fact, more than a third of respondents point to the manufacturer information (e.g., website, social media, marketing) as informing their pet food selection process. Manufacturer information is actually ranked as more influential for pet food buying by pet owners than other external sources including Google, retail staff and even family and friends.

Connecting Your Brand to Pet Owners
As a result of the COVID-19 quarantine process, pet owners have had more time to connect with their pets and identify the value their pet food offers. For pet food manufacturers looking ahead to the next 12 months, connecting your pet food to a strong brand story and product strategy seems essential. Positioning your pet food brand with an audience segment in mind seems more important than ever.
Pet food brands looking to stand out online and on store shelves should ask themselves a few questions:
How does my pet food brand connect with any particular nutritional audience segment?
How does my pet food brand offer variety to pet owners?
How does my pet food brand allow pet owners to connect with the brand and what information do we provide them?
In the second part of our pet food nutrition blog series, Trone will explore the multichannel online pet owner and how pet food manufacturers can connect with them earlier to overcome pet food aisle overload. Contact us to talk with a pet marketing specialist about how your brand can reach potential customers and develop loyalty with those you are already serving.