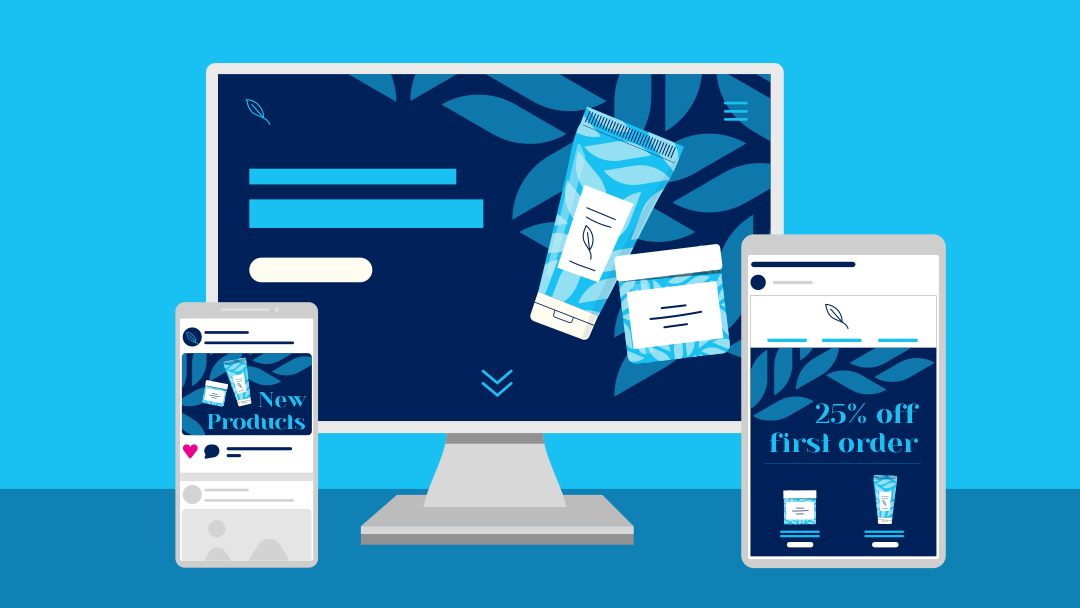 What is Brand Consistency and Why Does it Matter?
Brand consistency is how brands become memorable. It's showing up to every single brand interaction wearing the same colors and saying the same words—no matter where that contact takes place. If a potential customer has encountered your brand in-store during the day, they should have a similar experience when later that night, they search for your website. If they see an ad on their phone, the colors, fonts and message should remind them of what they've seen before. If they get an email, or see a social post, or drive past a billboard or even order and receive a package from you, customers should always feel like your brand has been presented to them in the same manner. They should feel the same feelings. And the consistency should help them recall your brand later. On average, consistency could increase revenue by 10–20%.2 
How Can Brands Maintain Consistency?
1. Set Your Brand Look in Stone
A brand's image should not be flexible. Every company should have a Brand Standards document that defines core visual elements, including:
Logo usage
Color palettes
Primary and secondary fonts
Photography or illustration guidelines
Icons or other graphic elements
2. Create a Story Worth Telling Over and Over
Your brand story needs to explain who your brand is and why customers should care. The language and tone you choose should allow your brand to share its personality and inspire connections with like-minded people. Remember, consistency is key, so make sure your story can be told repeatedly across all mediums.
3. Make Sure Everyone Knows the Rules
Not training employees on how to consistently portray your brand is a major missed opportunity. Once you have established how you want your brand to look, feel and behave, sharing this information—and your expectations—with your entire team will help prevent inconsistent, confusing interactions that can lead to frustrated customers.
4. Make Following the Rules Easy
Often, inconsistency happens when people aren't equipped with the resources they need to make things match. It might only take one marketing team member going on vacation for your social posts to suddenly be blue instead of orange. Developing easy-to-use templates and sample copy for communications such as emails, digital ads, point of sale pieces and social posts can help your staff and partners follow the rules as you intended.
5. Perform Regular Marketing Reviews
85% of companies have gone to the trouble of creating brand guidelines, but only 30% of these companies really enforce them.2 Making a digital visual record of all communications allows you to review the pieces side-by-side quarterly, if not monthly. That way, you can identify any inconsistencies and adjust. You can even retrain employees if needed.
Successfully executing consistent branding helps make sure that people who have encountered your brand before can remember who you are and what you have to offer. More importantly, it helps them feel comfortable that the next interaction they have with your brand will be similar to those they've had before. Need help developing, refreshing or maintaining your brand? Trone can help you become consistently distinct and memorable.