Speaking the language of US pet parents
Gimborn is an established pet company based in Germany. Their desire was to expand their functional treat line to the North American pet market. Their intent was to be sold in the treat section, not the supplement section, as treats have higher purchase potential. Gimborn's paste products had much success in Europe, but this type of treat was not widely accepted in the US.
 
Proprietary research revealed that a German heritage and the word "paste" were not selling points in the states. We would need a new name to resonate with pet owners who purchase premium treats as well as a subbrand name to replace "paste" that was more in line with human food trends. The name had to be clear for use in Canada as well as the US. Simply Kind Hearted became the brand name and "Squeezables" replaced the original client descriptor "paste."
Designing the package
The next step was to develop a package design that clearly communicated that these were treats first and supplements second. Our colorful crafted packaging system demanded to be placed in the treat section but still allowed room for education about the products' healthy ingredients and benefits.
Showcasing healthy treats 
After designing the colorful packaging system for the US launch, the next step was building out the marketing campaign for this unique product. Trone started with distributor kits that demonstrated the value of the "treat delivery" and why it warranted shelf space. We created tradeshow flyers to quickly communicate the benefits and developed point of sale counter displays with samples to encourage trial in retail.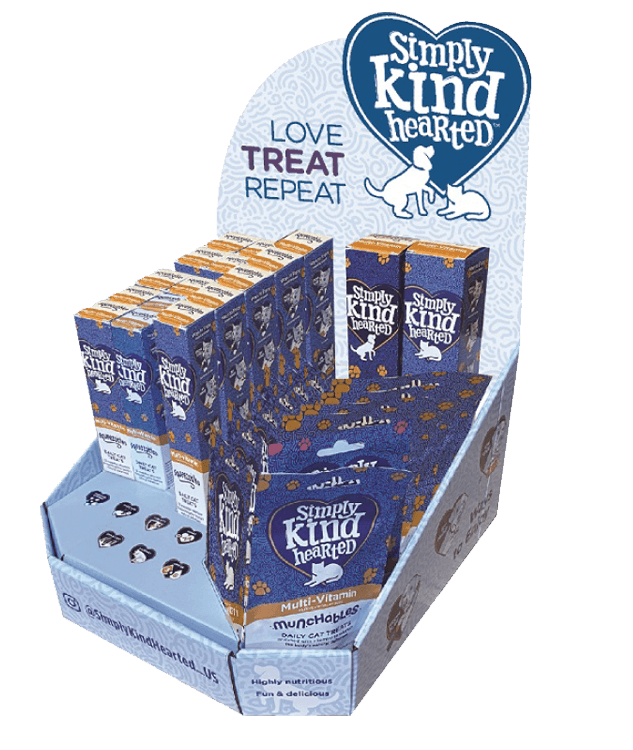 A site that looks like love
Our nonconventional audience needed a place to interact with the brand and understand the benefits of Simply Kind Hearted. We designed and developed a highly interactive, playful site to engage these highly-involved pet parents. At launch, the site was used for direct distributor site visits and then media was rolled out to support the pet owner audience.
Squeezables are a hit
Metrics were conducted at 30, 90 and 180 days after launch. Trone provided insights on user experience, media, product page and return on investment metrics. Optimizations were made to improve purchase behavior and return visitors through the first six months of the campaign.
Over the next 180 days, the brand experienced 18,000 sessions, 116 distributor contact forms and over 2,000 completed events.
Though the Simply Kind Hearted corporate brand team in Germany decided not to pursue the US market in 2020, Trone continues to receive phone calls from dedicated pet parents about where to find the product.
Need help with a brand launch or refresh?