A partner for the journey
The ultimate in luxury travel, prestigious Prevost Motorhomes needed a new site to provide a meaningful experience for those shopping for motorhomes. The site would also be a connection hub for the five converter partners and needed to complement the parent website.
A primary reason for buying and traveling in a motorcoach or RV is so pets can come along. According to a 2020 survey conducted by Go RVing, 68% of RV owners travel with their pets.
Bringing the team together…fast
Driven by the need to have the site completed by July 2021 for key events and conferences, Trone needed to have the new site up and moving in three months. Our objectives were to inform, inspire and facilitate shoppers throughout their purchase journey. With a nimble and responsive client, we were off.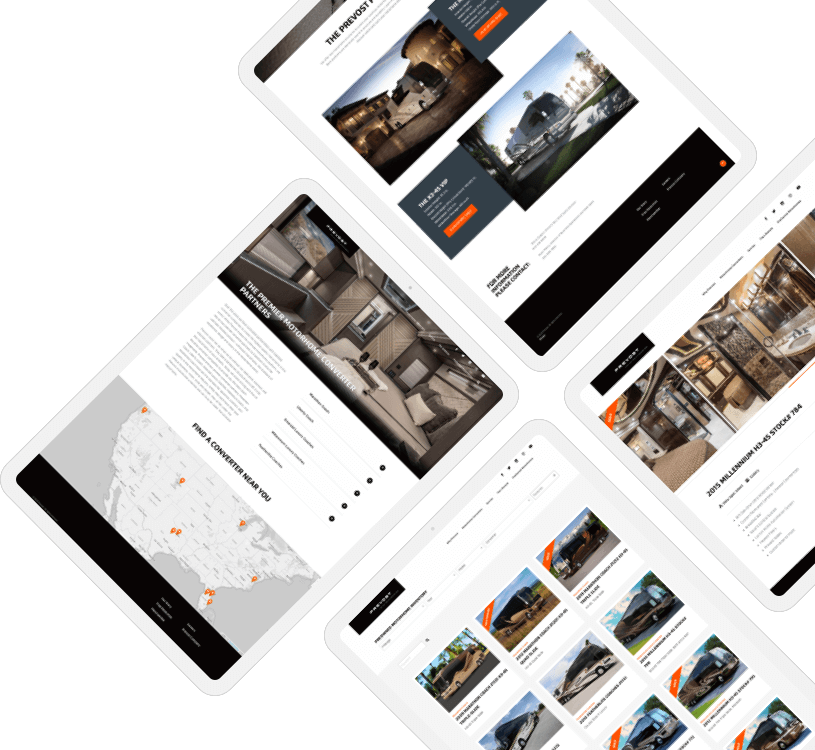 Building movement into the experience 
For the user experience, we wanted potential Prevost buyers to feel the movement, the freedom and the luxury of the experience. We used parallax to create this sense of moving down the road.  
Customization is one of the benefits of a Prevost Motorhome. We created a robust preowned section for each of the converter partners to showcase their inventory—acknowledging each of the partners but also working to create a consistent look and feel for the user.   
Putting our users first, we developed functionality that accommodates sophisticated searches through filters when searching for preowned motorhomes. Do you want a washer and dryer? A bath and a half bath? Users can pick their criteria.  
A new site gains traction 
Since the Prevost Motorhome site launched eight months ago in August 2021, site traffic has nearly doubled—increasing an average of 25% per month. In the early months, 60-80% of the site traffic came from the corporate parent site, PrevostCar.com. Since 2022, organic search traffic has grown rapidly as the new website has improved its search visibility and rankings. Organic search is now responsible for 54% of all website traffic and keyword rankings and search visibility continue to increase.